The Late Child and Other Animals / L'Enfant inattendue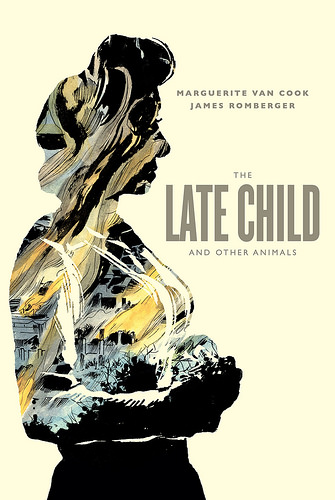 Written and colored by Marguerite Van Cook and adapted and drawn by James Romberger The Late Child and Other Animals, an original hardcover 180 page graphic auto/biography was released in November 2014 by Fantagraphics Books. See the video clip for a look inside the book.
"The Late Child and Other Animals shares the features that made Marguerite Van Cook and James Romberger's collaboration with David Wojnarowicz such a success: the lush color, the creative visual mapping of a psychic landscape. The hallmarks of this remarkable writer-artist team are intensified in this loose, often lovely, personal coming-of-age narrative, haunted by a dark undercurrent, that focuses on Van Cook and her mother." – Hillary Chute, author of Outside the Box: Interviews with Contemporary Cartoonists
"The stories in The Late Child and Other Animals are beautiful haunts, the stories that were never told and have returned, fully alive and tense with implication. The stories are the intersection of a national history and the exquisitely drawn inner life of the late child herself, Marguerite. The world Van Cook and Romberger recreate is unsafe, unfolding, and shot through with joy." – Amy Benson, author of The Sparkling-Eyed Boy
"Overwhelming, my first encounter with a graphic gathering of stories: I devoured them all in a huge gulp, from the detailed delights of fields and flowers to the fearsome tale of man and girl. Everything feels so very alive in these pages, words and colors and line!" – Mary Ann Caws, author of The Surrealist Look: An Erotics of Encounter, Surprised in Translation, and The Modern Art Cookbook
"This breathtaking auto/biography traces the life path of a mother, and then her daughter, as it weaves together fragments of each woman's memories to form a careful mosaic. The images and accompanying text together reflect a unique and powerful lyricism, one that captures everything from the aftermath of a grisly, war-torn landscape to youthful friendship blossoming on the Coast of Normandy.  Reading The Late Child and Other Animals, one experiences how poetic the graphic novel form can be, how memories rendered through sharp lines, soft watercolors, and penetrating narrative prose can immerse you in worlds far, far away." – Tahneer Oksman, author of Mourning the Family Album
"The Late Child and Other Animals is a deeply moving graphic memoir of motherhood and childhood, of the horrors of World War II and the terrors of family court; of the bliss of country vacations and the fear of being stalked. It's a gorgeously drawn and deeply personally written collaboration between Marguerite Van Cook and James Romberger, the New York artistic couple who produced the powerful 7 Miles a Second. The Late Child is a rich and intelligent work, one of the lushest and most giving graphic novels in recent memory."–Jason Sacks, Comics Bulletin
"Marguerite Van Cook is a legendary punk diva and award-winning poet whose knack for characters and prose will hit you straight in the heart. James Romberger's art comes straight from the gut with wavering brushwork, emotive coloring and a deeply personal line… an explosive combo."
– Bart Croonenborghs, Broken Frontier
" Yet, so sublime is the telling in its subtle interplay of perspectives—visual, vocal, lucidly ludic—that to deny these creators' willful intent to invite our active rumination through its ample provision of entry—and departure—points would be selling them short. The Late Child and Other Animals breaks fresh ground for alternative ways to retrace the past; opens one up to the interplay of parallel lives." Norman Douglas, Sensitive Skin Magazine
"Romberger's style is a wonder of optical and dramatic economy, reminiscent of illustration in the leading modes of the mid-20th-century period the book portrays — loose and sketchy to convey the forward velocity and succinct sophistication of the West's self-image, charming in its simplicity and assured in its catalogue of abbreviated emotions, encyclopedic in its observation of the abundant urban and country environments while ambitious in its formal experimentation and interpretive shadings…
Van Cook is a master of writing in displaced time, inhabiting the limited perspective of a moment in her life with utter vivid conviction while observing its meaning with the insight of contemporary context." Adam McGovern, Fanchild.
"Written and colored by Marguerite Van Cook with art by her husband James
Romberger, this graphic memoir immediately grabs the reader with a
haunting opening sequence showing Van Cook's mother and sister as they
survey the wreckage of their freshly bombed town. The book never loosens
its grip as the years pass and the story moves away from that
devastated urban environment." Oliver Sava. The Onion AV Club
"Van Cook's voice throughout is measured but piercing, and her colours
resplendent and flush, while cartoonist James Romberger adapts her
stories into kinetic and furiously imaginative compositions." Sean Rogers, The Globe and Mail
"Marguerite Van Cook's semi-autobiography The Late Child and Other Animals offers a stunningly beautiful glimpse of her life…The imagery is powerful on its own merit, but it's merely one part of a story that is as poignant as it is charming." Cody Ray Shafer, Under the Radar.
"Sensuous, philosophical, full of life, Van Cook's voice wraps around Romberger's art to create a whole, multifaceted experience that not only tells you what an experience was like, but helps you feel it." John Seven
"In all, this is a quite extraordinary piece of work. It sweeps us flawlessly along from a hillside above Portsmouth burning in the Blitz to a Parisian café terrace at the end of the turbulent '60s. Wonderfully conceived and skillfully executed, it holds its own both as literary and as graphic art." Glenn Harcourt. Artillery Magazine.
See our News page for more recent reviews.
 L'Enfant inattendue  translated by Emilie and Barbara Lehin into French