News
A new edition of 7 Miles a Second by David Wojnarowicz, James Romberger and Marguerite Van Cook is available here : https://groundzerobooks.com/
We have self published this new edition after it went out of print to meet the demand at the Whitney Museum during the History Keeps Me Awake at Night retrospective of David Wojnarowicz  through 30th September  2018. James and I will be doing a signing in mid September, date to be announced.
The Late Child and Other Animals has been receiving some wonderful press and reviews and making its way onto some excellent "Best of 2014"  Lists. Here are a sample.
Artillery Magazine.  A review by Glenn Harcourt
"In all, this is a quite extraordinary piece of work. It sweeps us flawlessly along from a hillside above Portsmouth burning in the Blitz to a Parisian café terrace at the end of the turbulent '60s. Wonderfully conceived and skillfully executed, it holds its own both as literary and as graphic art " Glenn Harcourt
The Comics Journal, a review by Rob Clough
A review by Brian Wilson in The Vue
A.V. Club, Master Keaton, Shaft, an X-Force finale, and a haunting graphic memoir by Oliver SavaThe Late Child and Other Animals – A Rich, Lyrical and Expressionistic Look Back at a Difficult Childhood
Review: 'The Late Child and Other Animals' is a Beautiful Graphic Novel of War and Love, Childhood and Motherhood  by Jason Sacks. Comics Bulletin
The Late Child Arrives in BMCC NEWS
John Seven's 10 Favorite Comics + 2 of 2014 
Comic Book Resources 100 best of 2014
! 101 Creators to Watch in 2015 Den of Geeks.
Under the Radar review By Cody Ray Shafer
Comics for Grownups best of 2014
The Reliable Impressionist by Adam McGovern
Sensitive Skin review by Norman Douglas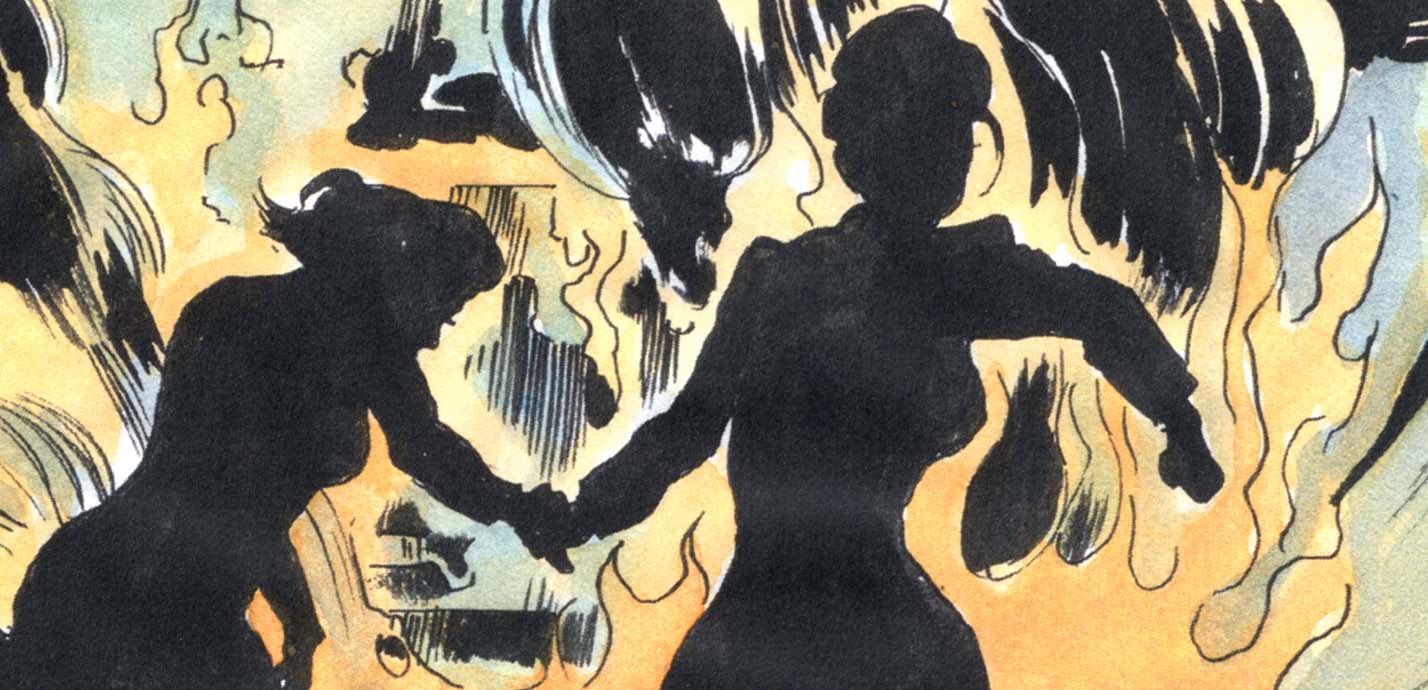 Publishers Weekly announces our upcoming book : Fantagraphics to Publish Van Cook and Romberger's New Book By Calvin Reid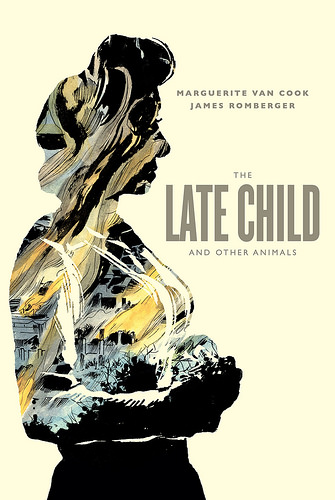 SOON TO COME! "The Late Child and Other Animals" a graphic memoir in collaboration with James Romberger who has adapted my personal stories and drawn and inked them, finally to be colored by me. Fantagraphics will release the English language version later this year.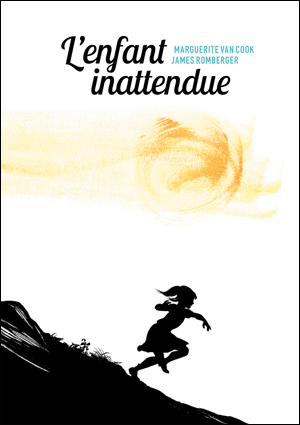 A French language version appears in Europe scheduled for late October 2014 at Editions çà et là under the title : "L'Enfant Inattendue" with a translation by Emilie et Barbara Lehin. We could not be more excited and happy for the support our publishers have shown us.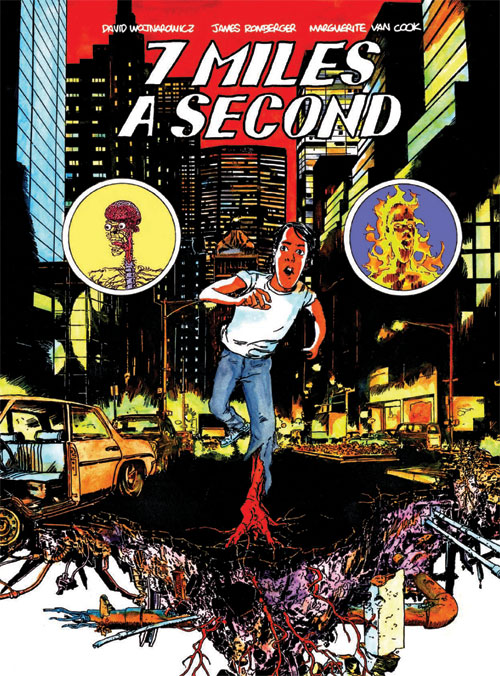 My color work for "7 Miles a Second" under the Fantagraphics imprint was nominated for an 2014 Eisner award in the category Best Painter/Multimedia Artist (interior art). So proud to be included in this talented field.
"7 Miles a Second" has been getting a good response, particularly gratifying is its arrival at number 5 on the New York Times Best Sellers Hardcover Graphic Book List
Thanks you to all of you who have purchased this book.
"7 Miles a Second" has been reviewed in a featured article by the LA Times. In his article "Revisiting David Wojnarowicz's '7 Miles a Second'", David L. Ulin chooses not to comment on James Romberger's art on way or the other, or to mention me as a co-author, and one senses more than a little hostility to the actual medium of comics in his otherwise glowing review. However, there is a nice full page image and we are delighted that the book will be brought to the attention of a greater audience.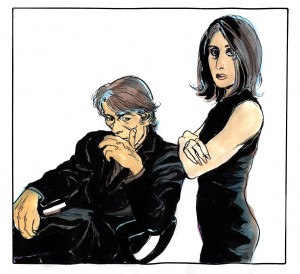 Our most recent press comes from Publishers Weekly. Remembering David: A Graphic Tribute: James Romberger and Marguerite Van Cook  By Grace Bello  Jan 04, 2013
It's been difficult at times, emotionally, to continue to revisit a good friend's death and have it in your life all the time," says Marguerite Van Cook, who, with her husband, James Romberger, created the graphic memoir 7 Miles a Second (Feb., Fantagraphics), about their friend, the late artist David Wojnarowicz.
Continue reading… link to article
And also from Publishers Weekly a starred review of 7 Miles a Second. Link to review
I'm excited because James Romberger and I  are doing an interview at 2pm on Sunday 20th 2013 to talk about the upcoming release of the graphic novel 7 Miles  A Second.
The Mike & Judy Show
Hosted by Mike Edison & Judy McGuire
Produced by Mike Edison & Judy McGuire
Engineered by Joe Galarraga
 Hosted by notorious authors Mike Edison and Judy McGuire, The Mike & Judy Show features uncensored interviews with writers, musicians, and other assorted oddballs with an emphasis on the wild side of arts and entertainment, as well as a no-holds barred look at current events and pop culture. Edison and McGuire will make you laugh, make you think, and, more than likely, make you reach for another drink. Mike and Judy's theme music, "Pornography, Pt. I" is performed by Mike Edison and the Space Liberation Army, and produced by Jon Spencer.
BOHEMIAN NIGHTS 4: The Secret Life of Artists
A program of short films by artists selected and organized by INGRID DINTER  
Opening Reception Screening: Tuesday, January 15th, 6—8pm
On View January 15—29, 2013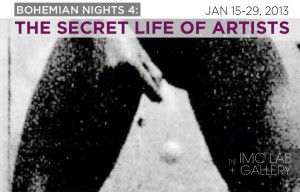 Upcoming show, in which my film "Elipticism Recalled" will be shown.
Everything You Need to Know This Week On New York's Art Scene give this show advanced recommendation:
A recommendation for the show from the site Guest of a Guest.