Post York by James Romberger and Crosby Updates: Nominated for an Eisner Award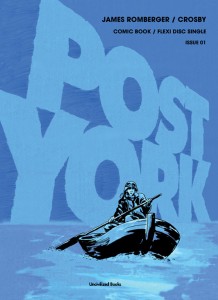 Exiting News & Congratulations to them:
Post York is a 2013 Eisner Award nominee, Best Single Issue (or One-Shot)
Here are links to some of the great press the project has received and information about their performances and presentations :

"'Post York'…offers a vision of a very changed city where life can be cruel and tenuous but also offers infinite possibilities of joys and transcendence."
-Alex Dueben, Comic Book Resources
"….an interesting and even brave approach to storytelling…."
-Rob Clough, High-Low
http://highlowcomics.blogspot.com/2013/02/bleak-futures-pickrodt-romberger-ward.html
_______________________________________________
"…the seemingly effortless, skritch-scratchy hand of Romberger makes (Post York) appear alive and hauntingly beautiful. His kinetic brush strokes and heavy use of black recall both Kirby and classic adventure comics….Crosby's music adds to the narrative and feeling…."
-Jess Worby, The Rumpus
http://therumpus.net/2013/03/the-new-york-comics-symposium-james-romberger-and-crosby/
________________________________________________
"…one of the best small press books I read this year. Post York is an utterly recommendable work. Grade A."
-Justin Giampaoli, Thirteen Minutes
http://www.thirteenminutes.blogspot.com/2013/02/post-york-state-of-mind.html#links
________________________________________________
"(Romberger's) stark black and white drawings render the future with bleakness that's strangely coupled with a scrappy quality that exudes a sense of discovery…(Crosby's) flexi-disc…serves as both a prelude and soundtrack that heightens the reading experience and adds an audio urgency to the story."
-John Seven, Grawlix and Briffits
http://blogs.thetranscript.com/arts/2013/03/14/grawlix-and-briffits-2/
________________________________________________
The slide show and Crosby's live performance of Post York have so far played at:
Desert Island, Brooklyn (12/07/2012):
http://www.desertislandbrooklyn.com/
The Moon, Union Pool, Brooklyn (12/21/2012):
http://themoonshow.tumblr.com/
Ben Katchor's New York Comics & Picture-story Symposium, Parson's/The New School (1/25/2013):
http://nycomicssymposium.wordpress.com/
Bob Sikoryak's Carousel, Dixon Place, NYC (04/10/2013):
http://carouselslideshow.com/
ABOUT THE BOOK AND MUSIC:
Post York, a beautiful graphic novel by James Romberger together with ideas and music with Crosby  offered in the form of a flexi disc in the back seam of the book , and available for free download online, are available from Uncivilized Press. (And in the spirit of full disclosure it is the work of  my husband and my son.)
Post York
Art & Story by James Romberger
Music by Crosby

$9, 40 pages, perfect bound, 8×11 inches
includes Flexi Disc by Crosby
Post York is a multimedia project that takes the form of a comic book with a musical flexidisc attached. The story is set in New York City after the polar ice caps melt. A young man navigates the flooded city, looking for something, anything, anyone…to start again.
The comic book by James Romberger takes a postmodern turn as it uses improvisatory cinematic techniques to make the reader a focus group for a pair of alternative endings. The song by Crosby extends the story into another medium to add deeper emotional resonance.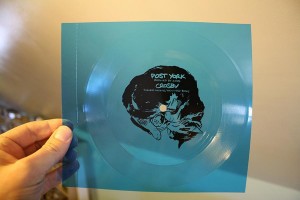 James Romberger's acclaimed graphic novels include 7 Miles a Second (a new edition is due in December 2012 from Fantagraphics) with legendary artist and AIDS activist David Wojnarowicz and artist and punk diva Marguerite Van Cook, and Aaron and Ahmed (DC/Vertigo, 2010), with Guggenhiem fellow Jay Cantor. The main character of Post York is modeled on James' son Crosby, the MC behind Hip Hop Howl of SXSW fame and a prolific designer for Swizz Beatz. Crosby provides the back cover collage as well as the song on the flexidisc, which features production by Kidde and also a special appearance by singer Jordan Lane.
Music and comics meet as two generations of artists come together to propel a moving vision of a post-apocalyptic world. Step aboard and try to stay dry.
Praise for James Romberger:
"In the highest horror-comics tradition."—The New York Times
"As sweet and perfect as an Old Master, but with a contemporary edge that sends shivers up your spine. Romberger makes his world come alive."—Walter Robinson, critic for Art in America and Artnet
"Romberger's art is a fine version of bony realism – his figures are so casually realistic, you can almost see the joints moving."—Entertainment Weekly
Praise for Crosby:
"Real talent."—Swizz Beatz
"MC who has rocked with anyone and everyone to ever touch the Bowery."—URB Magazine
"Crosby's unique musical lane, thoughtful and experimental."—Birthplace Magazine
At  The Moon Show, Crosby performed in front of a slide show from the book. The effect was stunning as Crosby did his inimitable thing.